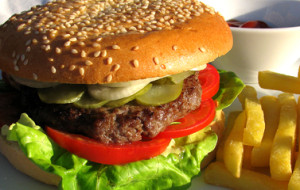 We go on vacation and decide to replace regular meals with food from booths. It is not the best solution.
You need to know, that none, even the healthiest stomach, he can't handle this kind of nutrition, and we can spend holidays instead of pleasures treating stomach ailments.
The caloric bomb.
We must know, that fast-food is not healthy. Chips, hot-dogi, burgers contain little valuable nutrients, but large amounts of fats, salt and sugar. So these are very high-calorie products and someone, who took care of the line before the holiday can be sure, that after eating such a thing, he will gain several kilos.
Fear of poisoning
There is also another danger, which fast-food advocates should be aware of. You have to be clear, that many of the fast food booths do not meet sanitary and epidemiological requirements. Until recently, until the launch of the so-called. For small gastronomy, only an entry in the business activity records was sufficient. Currently, a permit is also required from the local sanitary station, but there are still open points, according to the previous rules.
There is ongoing supervision over the establishments selling fast-food, but with a large number of them, it is practically impossible to check all the facilities.
Points of the so-called. small gastronomy, as long as they are focused on preparing dishes on the spot, such as frying fish or chips, should be provided with running water. It happens, that this requirement is not met, and water for hygienic and culinary needs is kept in jugs. The regulations oblige the owners to have appropriate culinary equipment, so refrigerators, freezers, cookers. It is a guarantee of safety for us – customers. Meanwhile, many booths do not have efficient devices. Imported frozen, they are thawed several times. We should know, that frozen food is only safe for health, if it remains at a constant temperature from production to consumption. When this chain is broken, there is a high probability of poisoning.
Other problem, which is worth paying attention to, is the oil used to fry food. It should be replaced daily, and even several times a day, if it is fried frequently. There is a rule, that the oil was once used, from a health point, absolutely not reusable.
And yes, Eating fresh fish fried in unhealthy fat can cause poisoning.
Pay attention to the surroundings of food selling points. Let's eat in these, which are clean, and the dishes are served in disposable dishes.
We should not buy from booths that do not have the appropriate culinary equipment.
Let's look for grilled dishes. We will then get rid of our fear, that the wrong fat was used for frying.
Number of calories in 100 g produktu: