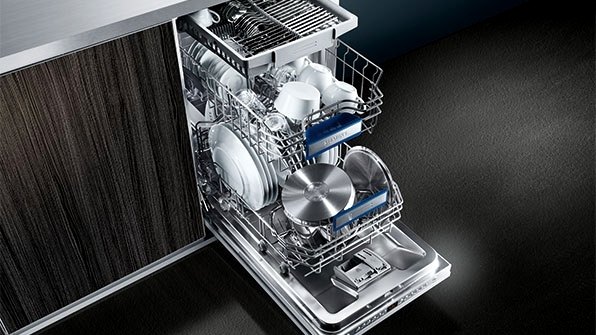 Choosing a dishwasher
A properly selected dishwasher will serve for many years. It is worth knowing how to choose the right model and what to pay special attention to.
The dishwasher has become one of the basic household appliances in every home. It is reliable at various parties, and, when you have a large family. Washing a lot of dishes by hand is not fun and takes a lot of time, this is why dishwashers have become so popular. The dishwasher not only saves time and labor, women often choose it because of this, that your hands do not need to be in contact with detergents and water for a long time, many allergy sufferers are also forced to buy a dishwasher for this reason.
The history of this equipment has already begun 150 years ago, but due to technological limitations they did not gain much popularity and only in the years 70. In the last century, they appeared in many kitchens for good, and by then they are becoming more and more popular. How well to choose this equipment? There are several aspects to note
Dishwasher type
There are different types of width dishwasher 60 cm or 45 cm, of course, larger models can accommodate more sets, but not everywhere is possible to insert them. In addition, you can choose built-in or freestanding dishwashers. Height and depth are usually constant and amount to 85 cm and 60 cm.
Equipment
In addition to the basic equipment of each dishwasher, such as a heater or filter, you should also pay attention to the additives. It's worth checking out, how many baskets are in the set and whether they can be purchased if necessary. Cutlery baskets are also a convenient solution, not every model comes with them!
Functions
The basic programs of almost every dishwasher are washing at temperatures from 35 do 70 degrees Celsius, as well as functions such as normal washing, intensive washing or pre-washing. However, the dishwasher can also be equipped with programs such as express washing, gentle washing, additional rinse, economic program. More advanced models allow, for example, to program a delayed start.
Operating costs
The operating costs of a given model are also important. Everything is explained on the nameplates, the energy class is specified there, where A is the best, and the worst class G. Washing efficiency and drying efficiency are similarly marked. People living in small apartments or having a combined living room and kitchen should definitely check it out too, how many decibels is generated by a given dishwasher model.
Security
It is not only about the guarantee, which guarantees repair in the event of faults, but also about things like how to connect, spill protection or childproof lock – all these functions increase the comfort of use and guarantee safe use for a long time.
After choosing the right equipment, all you need to do is take care of it properly. Use of appropriate measures, cleaning before first use, filter cleaning, descaling, as well as the proper arrangement of the dishes in the dishwasher are guaranteed, that it will serve without problems for many years.