Magical family holidays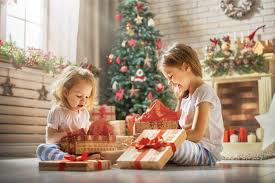 Pierwsze dni grudnia a w szczególności jego szósty dzień zwiastują nam nadchodzące Święta Bożego Narodzenia. Powoli witryny sklepowe zapełniają się świątecznymi dekoracjami a w sklepach, In galleries and on the radio you can hear Christmas time and Jingle bells melodies. Magia świąteczna w nowoczesnym wydaniu wkracza w fazę kulminacyjną, and we, with the spring wound up to the limit, work with order, zakupami i gotowaniem nerwowo sprawdzając checklistę, how many items are left to the end. In all this chaos, fortunately, there are moments of relaxation, when making Christmas decorations, and then dressing up one or four Christmas trees, as it is with us. When the Christmas tree is ready, gifts appear under its twigs overnight, just like snowflakes outside the window.
The upcoming Christmas Eve and gifts under the Christmas tree force us to fulfill the tradition of designating a snowflake. This honorable role will be played by Oliwka this year and her sisters will probably help and support her.
Ten magiczny czas przepełnia nas zadumą i refleksją … uwielbiamy tą świąteczną atmosferę … Cieszymy się z dobrej nowiny i radujemy ze spotkania z najbliższymi. It's a family after all, being with loved ones, są najcenniejsze, let's not forget about it ...
We start our Christmas Eve day 8.00 morning. We are all busy. Due to the fact, that the Christmas tree is already dressed two weeks before Christmas, to Julcia, May, Karolinka, Oliwka and Natalka take care of the last cosmetics of the Christmas tree and each of them symbolically makes one ornament each. Last year, the Christmas tree was dominated by Santa-shaped decorations, molded stars and socks. This year, due to the extended offer, other semi-finished products were purchased in the stores, Coolinda plastics for Christmas decorations.
Then we start baking cheesecake and poppy seed cake, which cannot be missing on our festive table. Of course, girls are very happy to help their mother with these baking, they mix, they add ingredients, and finally, for the tradition to be done, they will lick the forks of the mixer, or take the rest of the dough out of the bowl with their spoons. Then I see myself as if from years ago, kiedy sama razem z mamą i siostrą piekłam ciasta i po całym rytuale robiłam to samo … No cóż historia zatacza koło … Ulubionym zajęciem naszych Pociech jest pieczenie pierniczków … te zazwyczaj robione są dzień przed Wigilią i dekorowane są kolorowymi koralikami i gwiazdeczkami.
Finally, there is also the preparation of the table for our guests. This year we have made a decision, that it will be white with red ... so traditional ... because powder pink and delicate silver have dominated the last few years, and in this we want to be decisive, Christmas red… and what is not allowed.
When everything is ready, Yes, OK. at. 16 .00 -17.00 along with the first asterisk, we start the Christmas Eve dinner. First, the grandfather, as the eldest in the family, reads a passage from the Bible, we pray and remember the dead of our family, then - dad, as the head of the house, he distributes a wafer to everyone and we move on to wishes. After this introduction and the whole frame related to wishes, we sit down to the Christmas Eve supper.
The dishes are the same every year: beetroot soup with dumplings, Julia always eat, May, Karolinka, Natalia and Oliwka, mushroom soup - usually consumed by adults. Of course, our family's favorite dumplings with cabbage could not be missing, croquettes and carp. But girls usually eat salmon, because carp do not necessarily like them… Traditionally, in one of the dumplings with cabbage there is a five-cent coin. Who will come across it, he will be lucky throughout the new year ... We take this fortune with a grain of salt because our parents have exhausted the limit of happiness by hitting the proverbial six in the dart, after all, quintuplets are pregnancy that happens once in a while 52 millions of births.
During Christmas Eve we can also sing Christmas carols ... The highlight of our feast is the performance of our little daughters, które zawsze same śpiewają jedną kolędę … W tym roku przygotowały "Pójdźmy wszyscy do stajenki "
Kochani ślemy Wam wszystkim najserdeczniejsze życzenia z okazji Świąt Bożego Narodzenia …
That Christ's coming into the world would bring joy, room, hope and love ...
and at the table on Christmas Eve there was no shortage of light and warm family atmosphere ...
May the New Year bring with it happiness and prosperity ...