What does it mean to be a mother?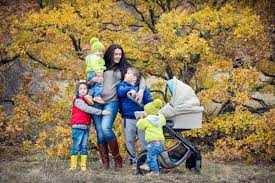 What does it mean to be a mother? Maybe I will start my considerations with a certain one, ponadczasowej maksymy, which is beautiful, drewnianej tabliczce podarowały mi moje Córcie w zeszłym roku na Dzień Matki: "Hotel Mama ... 24h always open". I was very touched at these words, widząc, że one również czują, że w każdej chwili mogą na mnie liczyć. 24 hours a day, I am day and night for them. Yes in 100%.
This motto accompanies me every day and is a maxim, I sign with both hands. Someone will ask why? I already answer - That's why, że po nocy pełnej snów i rozmyślań o zadaniach jakie czekają na Ciebie jutro, in the morning you start to function at full capacity ... even if you try to rest, your thoughts are occupied with many matters - dentist, speech therapist, extra activities for children, school trip, which still has to be paid, repairing a leaking tap, po zaplanowanie rodzinnych wakacji.
Motherhood is a constant lack of time! Because no matter how many times you've already loaded the washing machine, a czeka kolejna partia. No matter how many times you've washed the dishes today, and more are gathering. Does not matter, how early you get up and send the whole bunch to school or kindergarten. You'll leave the house in a hurry anyway - that's a whole paradox. Despite these paradoxes, i love being mom. Although it is a very big challenge, sometimes difficult to bear on a daily basis, especially with a bunch of kids of one age, to
I love this state.
I cannot imagine my life without him. This is my life and the most beautiful part of it.
To właśnie ten stan uskrzydla mnie i dodaje mi Powera. I love hearing the magic word "mom" for the hundredth time on the same day. It is a balm to my soul. Looking every day, how my Corcie grows, how they change, I do not believe, that's it 9 years. 9 years of being a cleaner, washerwoman, Cook, ale przede wszystkim matką i przyjaciółką. Uwielbiam wybierać 10-tą sukienkę na występy szkolne "Mam talent" i po raz setny oglądać "Barbie", or "The Lion King". I love being needed by my children, when e.g.. participate in swimming competitions or "Games and activities", potrzebując mojej obecności i wsparcia. I want to be a good mom and I like the bar, którą często sobie stawiam dość wysoko.
My goal is this, to save in the memory of my children an image of a warm home with a well-groomed mother, a partner relationship and finally a loving family, our happy seven :):):):):):):)
I wish to, that the warmth of the family nest would show our daughters the way home, even from the farthest journeys. Even when they have their children themselves, lest they despise Mom's time, because I do not like my mother, a warm corner and ... beautiful childhood memories ...
Mom is nothing else, like love without limits, when you hug your children, kiedy patrzysz im prosto w oczy, it's like the world is stopping. Being a mom also means believing it, że te trudne dni i nieprzespane noce kiedyś wynagrodzą po stokroć. Bo kiedy przyszedłeś na świat to właśnie ona drżała o twoje zdrowie, it was she who stayed with you all night and held you in her arms until she saw the dawn of the next day. During the day, which she could never say, I can't do it anymore, I'm taking time off. NO! We are not allowed to take the day off. We must be and continue
Because what could be more important than the upbringing of another human being?
For me personally, as mothers of daughters, soon a teenager, and then the women, it's the meaning of my life. Oddałam się bez reszty i wciąż oddaję się moim Córkom i uwielbiam to. Because I love being a mom. I dream of such a moment, that one day my daughter, being adult women, they said: "Mom, we are proud of you". Then it will be the biggest prize.
Being a mother is a great pride, pride in my Daughters and their little or bigger successes, starting with sitting down, crawling, the first step, first word mom, for medals in sports competitions, spelling competitions, or math Olympiads. Each individualist and the best in its category. And this pride will accompany me all my life, nic już bardziej nie będzie się liczyło. A ta duma to też duma z samej siebie, that I made it, I'm not crazy, przy pięciu brzdącach w jednym wieku, wiecznej hurtowni mleka i tonie pampersów.
Although I had moments of breakdown, difficult moments, I was always guided by one thing - I am a mother and a fighter - I will not give up !!!
And I did not give up, and you too, dear Mother, do not give up! Because our life is in our hands, despite the failures, but also successes, dzięki którym odkrywamy na nowo nasz cel. The purpose of being a mother, but also a woman, which under her heart through 9 months she wore her greatest happiness. remember! We have been invited to the most beautiful journey of being a mother ...
Happy birthday Dear Mom
Na koniec moich skromnych rozważań dedykacja dla moich Córeczek:
"It was me who carried you under my heart
It is I who asked for your health,
You were with me from the first gram,
You my children, I am your mother "
I love you, my stars