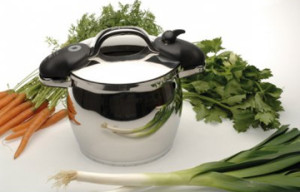 They are perfect in small kitchens. By stacking pots on top of each other, you can prepare multiple dishes at the same time. The set of these pots is constructed in this way, that it takes the same amount of time to cook in the lower pot and in the upper pot. The biggest advantage of brewing with a layer system is this, that the food retains its nutritional value. After all, we cook without water and fat.
How to arrange the pots?
In a set of dishes for gourmets, because that's what the layering pots are called, you can prepare all kinds of food (also bake a cake!). The largest pot is placed at the very bottom and products that require longer cooking are placed inside it, such as meat or poultry.
You can prepare rice in the middle pot, pasta or porridge.
It is best to cook vegetables or fruit in the upper pan, sauces and puddings.
How to prepare meat?
So that it is not dry and does not reduce the volume during preparation, follow the instructions below: heat the pot over medium flame for approx. 2-5 min, then pour a few drops of water into it; season the meat and put it in the pot; brown on both sides; add 1/4 glasses of water (for chicken a little more);
cover the pot, and when steam starts to come out from under the lid, reduce the flame.
Cooking vegetables
It is best to cook them whole and in the skin. The vegetables must be thoroughly washed under running water. Potatoes and beets are best scrubbed with a brush.
Cooking time:
potatoes 25-35 min
beetroot 35-45 min
brukselka 20 min
salery 20 min
kale 35 min
spinach 12 min
Green Beans 35-40 min
Type of meat – Choke time
(on each 1/2 kg of meat)
beef 40-45 min
veal 40 min
pork 35-40 min
baranina 35-40 min
poultry 25-35 min