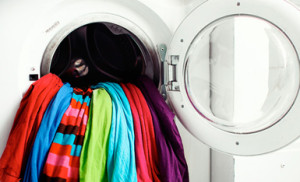 Even if we make a reservation that we do not wash anything during our holidays, after returning for a few days, we bring our wardrobe to a usable condition. The first days after returning from vacation are the time of great washing.
In summer, we prefer to wear light ones, airy clothes made of natural fabrics. Before starting the washing, we advise you to familiarize yourself with the markings, which are on the tags. This is very important. Thanks to the correct reading of them, we will avoid damaging our clothes.
Cotton.
• Odzież z bawełny można prać w wodzie bardzo gorącej, and cold. In the case of colored clothes, you should check in advance whether they do not dye. If they contain an admixture of other fibers, We adjust our behavior to the most delicate fiber.
• Bluzki i spódnice z bawełny indyjskiej najlepiej prać w wodzie, in which the bran was boiling. If the fabric is dyed red or green, add a little vinegar to rinse; if blue – table salt. Iron gently across the fabric, so as not to iron out the characteristic creases.
Denim clothing.
• Pierzemy ją oddzielnie, because dyes are usually not permanent.
• Bardzo brudne dżinsy i bluzy dżinsowe zwilżamy wodą, rub with a piece of dry soap and leave it until the next day. The next day we soak them in a solution of hot water with turpentine (1 tablespoon on 3 1 water). On the third day, we scrub the pants hard with a brush, soap the dirtier places.
Silk.
• Przed praniem należy przeczytać oznaczenia na metce i sprawdzić czy dozwolone jest pranie w wodzie. if so, We wash natural silk items in almost cold water with the addition of a delicate liquid. They must not be soaked in enzyme powders.
• Plamy można usunąć tylko chemicznie. Needless to say in the laundry room, what are they from.
• Biały jedwab można wybielać w roztworze perhydrolu (or 80% hydrogen peroxide). Preparations containing chloride must not be used.
• Odzież jedwabną prasujemy letnim żelazkiem, while it is still wet.
Openwork and lace.
• Pierzemy ręcznie w środkach przeznaczonych do prania tkanin delikatnych. We do not twist, we just squeeze the water lightly. Iron on the right with a warm iron.
Artificial fabrics.
• Kostiumy kąpielowe z lycry pierzemy ręcznie w letniej wodzie lub w pralce programem dla tkanin bardzo delikatnych. We dry on straps, without squeezing the water. They must not be ironed.
• Tkaniny nylonowe i stylonowe pierzemy w ciepłej wodzie, rinse in cold. They cannot be bleached with agents containing chloride.
Viscose.
• Pierzemy ręcznie w zimnej wodzie. Do not curl or crease during washing. Iron the fabric while it is still damp or with a steam iron.
Footwear.
• Płócienne buty pierzemy w gorącej wodzie z dodatkiem detergentu. Then we fill them with newsprint and let them dry.
• Obuwie z jasnej skóry (not suede) perfectly cleans with a cold cloth, sweet milk. After drying, wipe with a clean cloth, brush with paste and polish to a shine.
• Buty z nabuku najlepiej czyścić specjalną gumką.
• Tenisówki i trampki myjemy szczoteczką w esencjonalnym roztworze mydła z dodatkiem amoniaku. They can also be washed in an automatic washing machine, by setting the program selector to 30 degrees and excluding the centrifuge. For drying, put sneakers with crumpled newspapers, changing them several times.
Bags and hats
• Przybrudzone torebki ze skóry lakierowanej przecieramy szmatką lekko zwilżoną wodą i natychmiast obsuszamy miękką flanelką. You can also refresh them with cut onions or whipped protein foam. Shoe polish must not be used.
• Torebki z białej skóry konserwujemy pianą z ubitego białka. When hiding them for the winter, we clean them very thoroughly: after vacuuming, rub the whole surface with the wheat bran decoction (2 boil handfuls in 1 a glass of water and strain). After drying, rub it with a colorless shoe polish, we polish, we wrap it in a dark flannel and hide it in the wardrobe.
• Torebki łączone z płótna i skóry wymagają dwóch różnych sposobów czyszczenia. The leather is preserved by rubbing in a good one, colorless paste and polishing to a shine. Just be careful. so as not to grease the canvas. We refresh the canvas parts with a preparation for cleaning upholstery and carpets, according to the instructions on the package.
• Torebki ze sztucznej skóry czyści się lekko wilgotną szmatką, and preserves with "Nivea".
• Torebki i kapelusze ze słomki i rafii przecieramy lekko zwilżoną szmatką, and then with cotton wool dipped in lemon juice.