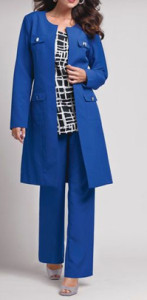 "I am tall and very slim, that's why I bought myself a simple calf-length knitted dress. Now my friends tell me, that I look like a pole in it!"
That's enough, for the Lady to wear a long, thick knitted vest. Also thick knitted shawls or woolen scarves, carelessly wrapped around the hips or shoulders, makes, that your figure will look a little fuller. A trendy layering style is also ideal: several items of different lengths can be imposed on the dress. It can be e.g.. sweater, vest and jacket.
On a straight line, a long and tight knitted dress, we can put on a shawl of the same color.