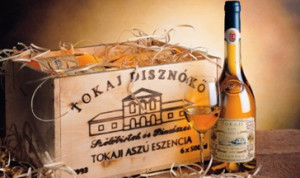 The table and dessert tokayas have an incomparable taste and a fantastic aroma. They owe it to a production technology that differs from that of other wines. Tokaje, so does the spanish sherry wine, is made from overripe grapes, dried in the sun. The remaining types of wine are made from fresh grapes.
In the Hungarian region of Tokaj-Hegyalja, autumn can be long and sunny, thanks to the natural mountain cover to the north. Therefore, the ripening grapes remain on the bushes, until they reach the highest possible sugar content.
WHAT IS THE CHOICE
Tokaj Aszu
It is one of the most respected in the world, made from selected grapes, in especially sunny years.
Szamorodni
Shamorodni Edes is a sweet wine, Szamorodni Szaraz is a dry wine. They are poured into bottles after 5-15 years.
Furmint
Made from grapes picked from the bush without selection to be dried and ripe. Semi sweet - semi-sweet wine.
Furmint
It is named after a grape variety. Aszu is also made of these grapes, but only in extremely sunny years. Dry – consummate.
Noble Asu
Tokaj is a wine with a straw or golden color, a specific bouquet and harmonized taste. It is produced in all types, dry to very sweet. The most famous Tokaj dessert wine is Ashu. It is made in a special way. Collected from the bushes, Germinated grapes are carefully sorted, rejecting these, which are only ripe. They are then placed in bulbs (puttonach), where the thick juice is produced, and after fermentation of the juice – essence. The essence is added to barrels containing freshly squeezed grape must. The more puttons added to the barrel, the sweeter and stronger the wine. 2-5-The putton tokay "Aszu" is considered to be one of the best natural white dessert wines in the world.
Other tokayas
In less sunny years, when it is difficult to find a large amount of overripe grapes, other types of tokay are produced: sweet "Szamorodni Edes", seasoned "Szamorodni Szaraz", consummate, semi-dry or semi-sweet "Furmint". For these wines, grapes are harvested without sorting until they are dried and ripe. Tokaj wines (except Furmint) are poured into long-necked bottles 0,5 l, therefore they are easily recognizable among the great variety of wines in the shops. Tokaj can be stored well and for a long time,is one of the most durable wines.
What to serve
Dry tokaje are served with the dishes of the cold buffet; e.g.. "Szamorodni Szaraz" do tartins, poultry galantines, fish, meat; Furmint for roasted poultry and cold cuts. Furmint is also perfect for hot snacks, e.g.. Poultry or veal medallions, for chicken liver. In turn, for desserts-cakes, cakes, the best ice cream is the sweet tokay "Asu".
Tokaju's fame dates back many centuries. W1562 r. at the Council of Trent, Pope Julius III made this drink "the wine of the papal table", and the French king Louis XV called them "the king of wines and the wine of kings".
Hungarian tokaj was also very popular in old Poland. It was valued even higher than French wines.