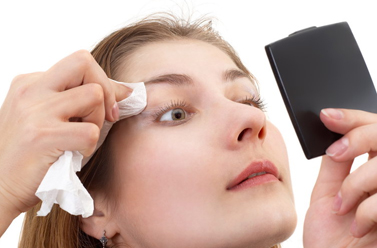 It used to be said, that the eyes reflect the interior. Many scientific studies confirm, that when we watch someone the first time we pay attention to their eyes, probably wanting to test his reaction to our words.
Therefore, every lady should appreciate the daily eye makeup, with which you can emphasize your own strengths and emphasize the element of beauty that is so important for our appearance.
Getting down to makeup, we thoroughly cleanse the skin of the face, to remove any cream residues, powders and everyday dirt, to which the human face is exposed. Next, we apply the cream, as well as a make-up base. The next step is matting the skin, to keep your makeup intact throughout the day. Best, when applying the powder to the face we do not miss the eyelids.
We choose the shade according to the color of the eyes, beauty, century. If we are planning day makeup, let's opt for matte or subtly iridescent shadows, satin. Let's avoid pearly shadows, which are perfect for a requested visit. When we have blue eyes, it is good to choose shades of brown and dark beige. Green eyes will turn magical, deep charm thanks to shadows in purple and pink tones. Brown eyes will take on glamorous sex appeal in shades of green, beige, and light brown.
Tips for women regarding makeup or visage differ when it comes to highlighting the eyes with a line. Drawing it correctly is an art, while a lack of experience may have the opposite effect. Black pencil or eyeliner will make your look expressive, while lightly pink or white pencils on the inside of the lower eyelid will visually enlarge the eyes.
We complement the eye makeup by applying mascara on the eyelashes. Its color depends on it, what type of beauty does a woman represent. For clearly- and redheads, brown ink is recommended, dark-haired women will perfectly emphasize the eyes by applying black mascara. Color inks, great for evening makeup, they don't work every day. We put the mascara from roots to ends. Apply for a better effect 2 be 3 layers, while taking care of it, so that the eyelashes do not stick together.
The final step is to highlight the eyebrows with a crayon and carefully comb them out.
The makeup prepared in this way will give us a perfect look and give us confidence.