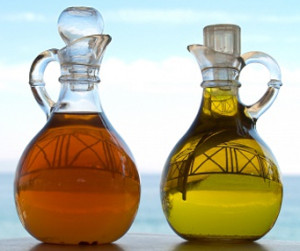 Wine vinegar has been used for as long as wine has been drunk. It is produced as a result of wine fermentation, but not under all conditions. Wino musi mieć kontakt z powietrzem oraz stałą temperaturę 20-30°C. Bacteria are also essential. Good wine vinegar "matures" in large wooden barrels and has a noble taste, less spicy than spirit. It is perfect for seasoning with herbs – both fresh, and dried.
Its advantages are most fully used in Mediterranean cuisine, adding it to various dishes, especially for salads. Wine vinegar stimulates the appetite and facilitates digestion. Its antiseptic properties cause, that it is irreplaceable in the preparation of marinades of vegetables or fish. However, so that it does not lose its flavor, it must be stored in well-closed bottles in a dark and cool place.
One of the most popular salad dressings made with vinegar is
vinaigrette:1 spoon of wine vinegar, 3 tablespoons of oil, salt, pepper (possibly also a clove of garlic).Rub salt and pepper with vinegar with a wooden spoon. Add the olive oil and mix. You can also add some chopped green parsley to the sauce, and, if you like, a squeezed clove of garlic.