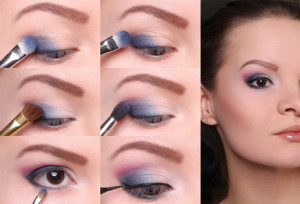 "For years I have had problems with choosing an outfit, makeup,, and most of all hairstyles. I have medium length hair, dry and swarthy skin with a tendency to rupture blood vessels. I'm a nurse."
Eye makeup: you put a dark shadow in the outer corners of your eyes and pull" go up. At the level of the iris, you should apply a light shadow and spread it all the way to the inner corner of the eye.
With deep-set eyes, it is very important to cover the eyelashes thoroughly. First, they should be covered with a layer of loose powder. Then, with one stroke, paint the upper side of the eyelashes. Only now can we thoroughly paint the eyelashes from below (from roots to ends) turning them outwards.
Lightly layered hair that falls gently around the neck. You should definitely wear the compartment on the side. We like your hair color very much and you shouldn't change it. Don't forget about the conditioner after each wash.
You have to grow your hair like this, so that they can be thinned. The fringe should be much longer. Now let's do makeup. First of all, you have to do it stage by stage, very carefully. We start with the foundation, In your case, it should be quite opaque. You choose the color of the foundation in the perfumery, by applying a foundation sample to an unpainted face (on the lower jaw). Buy this color, which is the least visible. The foundation is applied with a damp sponge. Then the equalizer, a tone lighter should be placed under the eyes; in the corners of the eyes and on the eyelids you powder your whole face (loose powder with a light color). Now you can put a warm blush on the cheekbones, flirty color. Avoid pearly lipsticks.